The Bead Rescue Project
---
We are excited to welcome The Kingdom of Northshield to The Bead Rescue Project! Beads are showing up all over the Society looking for new owners, whom with to share their history and beauty!
*
As the Project prepares to celebrate our one year anniversary at Toys for Tots in the Barony of White Waters in The Middle Kingdom, we do so with much sorrow. Baron Thomas was an avid supporter of both the project and myself. He was the first to allow The Bead Rescue Project at an event. He was my protoge brother, friend, and more.... He passed away Monday Nov. 5, 2012. In his honor, all of the beads at the Toys for Tots Tourney in the Barony of White Waters will be in his heraldic colors.
---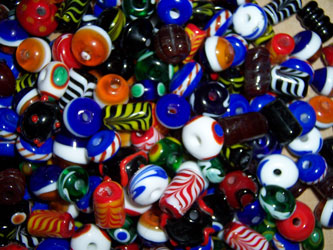 ---
Our project began when glass beads, much like those made prior to 1600, began to show up at SCA events over the last year. Those who appreciate these beautiful shiny treasures, took it upon themselves to find and educate homes for these beads at SCA events. The beads are "hidden" so that only those who want to see and appreciate them will find them! Should you find a bead, it is yours to keep :) Please visit the Bead Rescue Table, where you can get more information on the background of your bead, find out who made it, get a cord to wear and proudly show off your new bead, and even have your picture taken for our website!

** Only a few beads are hidden at any given event, so we ask that once you have found a bead you leave anymore you might find, so that others may share in the joy of bead ownership.

** Even if you don't find a bead, drop by our table and say hi, we love making new friends.
---
Please "Click Here" to visit and sign our Guestbook!
The Guestbook will open in a new window.
---
---
Support The Bead Rescue Project by purchasing sets of our Logo Beads :)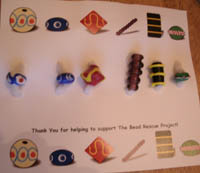 Visit Our Fundraising Page for more information!
Rois alann inghean Ui fhlaithbheartaigh, email:irishrois@ymail.com, mundane: Suzann Fine