The Bead Rescue Project
---
We are getting ready to celebrate our second birthday and The Bead Rescue Project
continues to grow to other kingdoms and sharing the joy of beads with
people everywhere! The bead rescue project is operating in more than 5 kingdoms of the SCA,
and has also been presented to those outside of the SCA!
Happy Birthday to The Bead Rescue Project, it has been a wonderful 2 years and
I am looking forward to many more!
---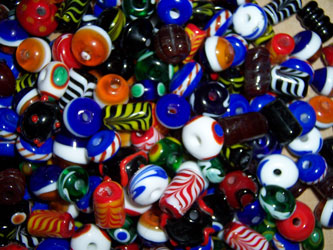 ---
Our project began when glass beads, much like those made prior to 1600, began to show up at SCA events over the last year. Those who appreciate these beautiful shiny treasures, took it upon themselves to find and educate homes for these beads at SCA events. The beads are "hidden" so that only those who want to see and appreciate them will find them! Should you find a bead, it is yours to keep :) Please visit the Bead Rescue Table, where you can get more information on the background of your bead, find out who made it, get a cord to wear and proudly show off your new bead, and even have your picture taken for our website!

** Only a few beads are hidden at any given event, so we ask that once you have found a bead you leave anymore you might find, so that others may share in the joy of bead ownership.

** Even if you don't find a bead, drop by our table and say hi, we love making new friends.
---
Please "Click Here" to visit and sign our Guestbook!
The Guestbook will open in a new window.
---
---
Support The Bead Rescue Project by purchasing sets of our Logo Beads :)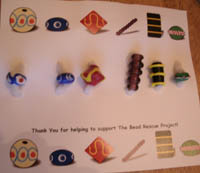 Visit Our Fundraising Page for more information!
Rois alann inghean Ui fhlaithbheartaigh, email:irishrois@ymail.com, mundane: Suzann Fine